"I had cancer myself, but it's something that's close to both of us as he's had cancer in his family with his sister and mother," Carol said. Carol lost her mother to cancer and recently lost her husband of 30 years after he lost his fight with pancreatic and bladder cancer. (Pictured right: Carol Brown with Lawrence's sister Donna Tyler at the billboard photo shoot.)
Lawrence came up with an idea to create a series of billboards with messages that encourage the people who see them to take action and get checked for cancer. Lawrence explained, "We wanted to bring a message that cancer doesn't discriminate. So we have Asian, Hispanic, black, and white people featured. When you look at the people on the billboards, you just can't say 'that person has cancer' because you just can't tell. So, isn't it time to get checked?"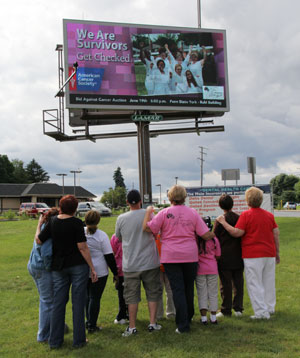 Carol added, "If we get one person to go and get checked then I think we've accomplished what we're trying to do." Scroll down to watch the video.
You can spot the four billboards around downtown York until the end of June at W. Philadelphia Street just past Beaver Street, Parkway Boulevard north of Front Street, East Market Street just past Broad Street and at Princess and Queen streets.
(Pictured left: Seeing the billboards for the first time)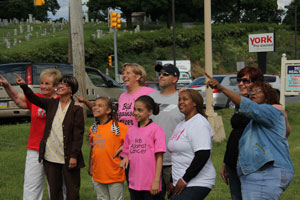 She and Lawrence have had a tremendous outpouring of support for the campaign, and they both feel glad that they have been able to contribute something positive to their city of York.
"We have been getting a VERY good response from the community because this is a true grassroots campaign. We have both been affected by cancer in many ways and have decided we need to encourage the people in our community to get checked because early detection can mean the difference between life and death. We are not a big organization or professional fund raising business. We are just two old high school friends who want to make a difference in our city."
"It means a lot to me because I had cancer twice, breast and ovarian," Carol said. "And, I see a lot of people who don't ask the questions that need to be asked. If I had not been an advocate for myself, I wouldn't be here today."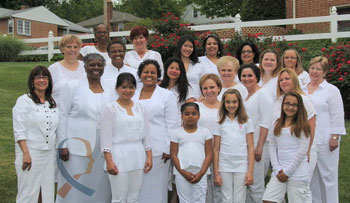 Carol knew that something wasn't right when she went for her annual mammogram. Even though the doctors said she was all clear and could go home for a year, she insisted that they check again and bring in another doctor. Her persistence paid off because they found a lump that had already advanced to her lymph nodes, and if she had waited another year, she wouldn't be here today.
"The doctors are great but they do depend on patients to tell them what they're feeling. They don't know what we're feeling unless we tell them. So I encourage people to tell, open up, be your own advocate and push them," she said.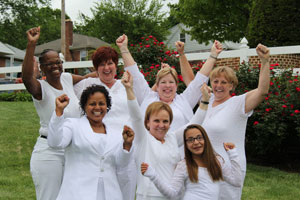 Cancer also affects the friends and family of those who are facing the disease. So, the people featured in the billboards are survivors and their friends and family. "They're not famous people up there on the billboards," Carol said. "It's us, it's ordinary people walking around York."
The photo shoot itself proved to be a moving experience for everyone involved. "Just being there, there was a really nice fellowship that day taking the pictures. People came here not knowing each other, and left as one big family." Lawrence said. Carol added, "It was like we were united trying to fight this thing together."
If you're interested in contributing to the billboard campaign, contact Brown at This e-mail address is being protected from spambots. You need JavaScript enabled to view it .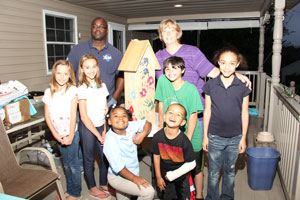 "This isn't going to stop with the billboards, "Lawrence said. "We're going to continue to fight as long as we can. You're not alone, and if you're feeling something, get checked."
Since our interview with Carol and Lawrence, they've been busy spreading awareness and making a difference beyond the billboards.
They are holding an auction, BID AGAINST CANCER!, from 6 to 9 p.m. Tuesday June 19th at Penn State York campus to raise money for their project and the American Cancer Society. The event will feature live music by local artists, baked goods, and silent and live auctions including tickets to Hersheypark, a teeth whitening kit, $500 worth of Neiman Marcus items, gift cards to local businesses and more!
6:00 - 7:00 Live music provided by local artists
7:00 - 8:00 Live Auction - handled by auctioneer Mike Tierney
8:00 - 9:30 Silent Auction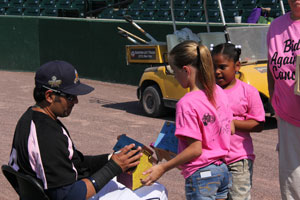 They also organized a group of kids in the community to paint bird houses that they took to the Sovereign Stadium to have autographed by the York Revolution players. The kids then sold their birdhouses and donated all of the proceeds to the American Cancer Society. Carol reported that ALL of the birdhouses were sold!
Great work kids, and keep up the great work Lawrence and Carol!
Related resources: