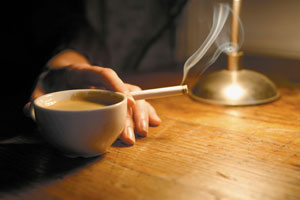 The mental aspects of this addiction are directly linked to behaviors. Ones thoughts and actions are correlated to time of day, for example first thing in the morning. Some tobacco users don't feel that they can get their day started with out their cigarette, sometimes associated with their morning coffee. Some other behaviors linked to tobacco use are driving, while on the phone, at the computer, after meals, and self medicating to aid in dealing with stress, just to name a few. Though there are many thoughts and behaviors that are associated with tobacco use, this area of tobacco addiction can be conquered with preparation, much needed support, focus and determination.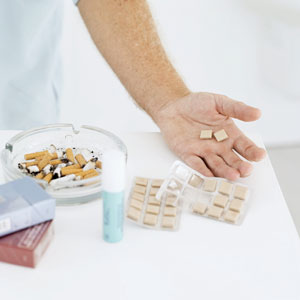 The physical aspect of this addiction is directly related to nicotine, which is one of many chemicals that is found in tobacco. Tobacco Cessation Aids are recommended to ease the transition from tobacco abuse to tobacco free living. This aspect of preparation should be discussed with a healthcare provider so they can give proper guidance with selecting a tobacco cessation aid that is most appropriate. There are seven tobacco cessation aids that are FDA approved, unlike the e-cigarette. E-cigarettes can be purchased almost anywhere however they are not regulated, nor are they listed as a tobacco cessation aid as per the "Best Practices for Tobacco Treatment and Dependence".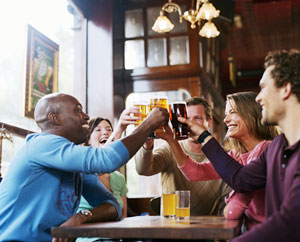 Making a social connection is the last of the three areas of tobacco addiction. Preparation is crucial in this area. People, places and things can trip you up every time. One has to be mindful of the social triggers that can potentially lead to slips or full relapse. When going out to be social, you must have your support people on post, whether over the phone or in person, to potentially guide you through a ruff moment or strong urge. Note that urges will come and go if you choose not to hold on to the thought. The key word is choose. Choose to stay tobacco free.
U.S. Department of Health and Human Services notes 5 key steps to quitting as:
1. Getting Ready by setting a quit date
2. Getting Support and Encouragement
3. Learning new skills and behaviors
4. Getting Medications and using them correctly
5. Be prepared for relapse or difficult situations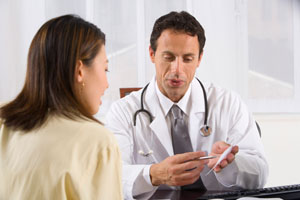 There are many different options for cessation counseling available these days, from smart phone apps to face to face counseling in groups or one to one sessions. Quitting tobacco is an action word that takes action to implement. Even as support person, there is a right way and a wrong way to provide support. Anyone can reflect back to the basic three areas of this addiction, and use this information as a solid foundation to building and constructing a solid structure for Tobacco Free Living.
Written by

Shannon L. Mason, RN, TTS
Certified Freedom From Smoking Facilitator
Program Coordinator for Tobacco Treatment and Prevention Services
About the author
I have been working at Pinnacle Health since 1998. Graduated with a degree in Registered Nursing in 1999. At the beginning of my RN career on a Medical-Surgical unit, I saw first hand how the devastating effect of ones behaviors and life's choice could have on the human body. This sparked my interest in Health Education. Currently I am providing tobacco cessation and prevention education to patients at Pinnacle Health and the surrounding communities. I facilitate support groups, classes, and I also one on one's for individuals that desire more individualized services. My personal goal is to assist every willing individual to become healthier, by living healthier lives.