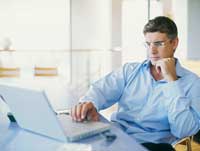 Wikipedia is a free, web-based, collaborative, multilingual encyclopedia project that is funded by the non-profit Wikimedia Foundation. It contains 20 million articles that have been written collaboratively by volunteers around the world.
Doctors see many patients like Ken who are turning to Wikipedia for knowledge. But, "Is Wikipedia a good source of information?" Dr. Adam Dicker of Thomas Jefferson University Hospital, is a part of the international team of researchers that is trying to answer that very question. They are currently comparing Wikipedia to the National Cancer Institute's Physician Data Query website.
PDQ (Physician Data Query) is NCI's comprehensive cancer database that contains summaries on a wide range of cancer topics like clinical trials, genetics services. a Dictionary of Cancer Terms, and a Drug Dictionary.
The team of researchers has determined that Wikipedia is surprisingly accurate. Because Wikipedia is open to editing and changes by the public, they were surprised to find that there is little amount of inaccuracy and bias in the information found. Although, Dr. Dicker says that Wikipedia is harder to navigate than the Physician Data Query. Learn more in the video below.
Do you use the Internet and sites like Wikipedia to understand cancer and treatment options? Please leave a comment below.